Okay guys, before I get too far into thoughts today, I have a question to ask everyone – Considering I only have three posts that are done every week (the two Mini-Opinions and the Weekly Summary), is this getting tired and boring? I feel like I should come up with something else to do that might be more interesting, but I'm not entirely sure what to do just yet. I will have to think on it…
Swamp Thing #0
So I will be completely honest here – I was not expecting to like this issue much. I mean, I know I was reading it for class, but I didn't think it would be anything I was all that interested in. But when we got a little further into the mythos of this series, the different teams and their conflict, I was intrigued. It seemed like an interesting premise. I actually am debating picking up a TPB for this, just to see if the series is as interesting. I shall have to think about that…
Final Opinion: Solid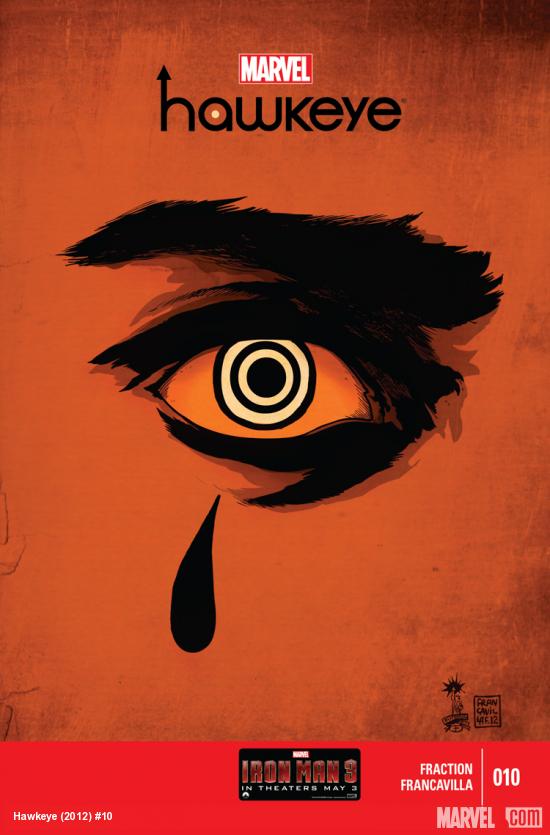 Hawkeye #10
Okay, really, who ISN'T reading Hawkeye at this point? It seems like everyone is talking about this series. As much as I go a little crazy trying to figure out this timeline, I love the little jumps in time – they just make everything seem so much more important and rich (I'm not quite sure those are the right words…I'm trying!). This one in particular not only gives us something else that was happening during issue #9, it makes one of the conversations in issue #9 relate differently than before. I love that sort of thing, and I can't wait to read more!!
Final Opinion: Must Read!!
Superior Spider-Man #9
This was a really good issue! Massive battle in Peter's brain between Peter and Otto and everything that came up, ever little twist and turn. I was hooked – I could not put this down until we got to the ending. And that ending was just as surprising as anything. Mind you, what might have been more fun to read was Slott's reaction on twitter to all of his fans. Like the story or not, you have to admire the man – he writes the story he wants to write, whether or not everyone is going to like it. That takes some major courage, and he handles it somewhat well (he might have been needling the haters a LITTLE bit, but whatever). You can't make everyone happy, especially in a creative field like this, so you have to make a choice. Make everyone else happy (which is next to impossible) or make the story you want to make. And no matter what you think of it, this is obviously a story that Dan Slott is enjoying and wants to make. You can choose whether or not you want to go along for the ride – and I know I'm not getting off anytime soon!
Final Opinion: Must Read!!
All New X-Men #11
So I already knew who was leaving with this issue, thanks to the Uncanny X-Men issue I read a little while back. But I was still interested to see what had actually happened when Angel decided to switch sides – and what really surprised me was Jean's character growth in this issue. I thought that was done really well. These kids are really what intrigue me about this title, so any time we get to learn more about them, I'm really interested. Now, how what Mystique is doing is going to affect the X-Men, that is going to be interesting…
Final Opinion: Must Read!
Iron Man #9
I was not planning on reading this title…really. I thought I was done. And then the last issue went and blind-sided me and I had to get my hands on this one to see where they were going. I was a little worried about this whole "Secret Origin" story, which I find a little funny – I barely know these characters but changing origin stories still makes me a little twitchy. This one looks to be interesting, but I'm not entirely sure where they are going (I've got a few guesses, but nothing concrete…) It leaves more questions than answers, questions that look like they will be addressed next issue, so we shouldn't have to wait long…
Final Opinion: Solid
Age of Ultron #7
So now that we're finally getting a storyline in this event, it's actually been an interesting read. Seeing what has happened to each character as a result of what Wolverine and Sue did is fascinating. I don't know enough about what happened in the Marvel Universe pre-AvX, so some of the references are a little lost on me (what war was strewn all over the Savage Lands?) What I really want to know is what the heck happened to Tony!
Final Opinion: Solid
The Movement #1
I was really excited for this issue – after reading Secret Six and Batgirl for class, picking up another Gail Simone book seemed like a no-brainer to me. Well…it's good for what it is. I will say that. But it's not what I expected it to be – I was expecting something a little grittier, more political, less superhero-y. That's not exactly what we got. Ignoring all that, I like it for a first issue. All of the characters seem interesting and I'm curious to see where this is going. It's just not what I expected when I picked it up!
Final Opinion: Solid
X-Men Legacy #10
This was a rather serious turn for a story that's usually much more light-hearted. Though the last issue was along the same vein, so maybe this arc is just a bit darker than the last. It was interesting, though I'm still pretty sure this was a story idea that was used in a movie at some point…it may have already existed in the X-Men universe before this, though, so who knows. I want to see what David is up to, though, because he always seems to have a plan up his sleeve.
Final Opinion: Solid